CreativeHustles: Fashion in the digital age.
As part of the ongoing Creative Hustles Southern Africa series; Creative Nestlings & British Council Zimbabwe present Creative Hustles: Fashion in the Digital Age in partnership with Moto Republik in Harare.
Join us for a conversation on the state of fashion in Zimbabwe and the rest of the continent and diaspora and how the digital realm has led to disruption, provided elements like eccommerce, content creation/distribution and easy access to consumers, designers, retailers and also communities.
‍
Speakers:
Chiedza Mahere - Fashion blogger based in Harare. http://www.diaryofsmurfdinkie.wordpress.com
Shamiso Ruzvidzo - founder of Fashion Weekend Zimbabwe and now Kusika Design Centre. http://kusikadesign.com
Noreen Chenesai Mukora-Mangoma - Zimbabwean fashion entrepreneur and founder of the brand, Chenesai Brand.
Danayi Madondo - Fashion stylist and Founder of Haus of Stone fashion brand.
.
‍
Event details
Time: 10 - 12:30pm
Date: 3 February 2018
Venue: MotoRepublik, 3 Allan Wilson Avenue, Belgravia, Harare
RSVP: http://creativenestlings.com/event/creative-hustles-fashion-in-the-digital-age
Facebook: https://www.facebook.com/events/180044045928017/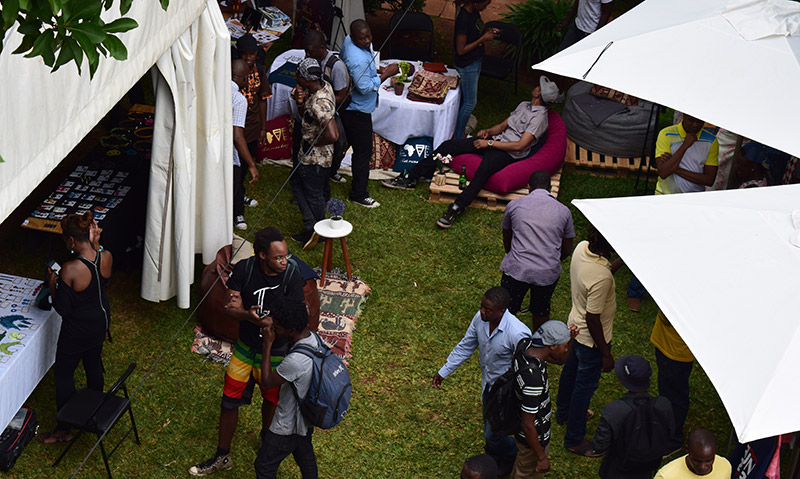 Hustler's Market
After the talk join some of Zimbabwe's best creatives to celebrate 2 years of magic and its return home ! The monthly food and design market features locally made fresh 'n' funky urban wear, crafts and street food presented by Moto Republik.
‍
Creative Mixer
This is an incredible moment for fashion creatives in Africa, which brings three young creatives from Uganda, Ghana and Namibia to share their experiences, knowledge and solutions exploring different topics. The mixer will be facilitate by Gilmore Moyo, a seasoned and fascinating fashionista, who always promises to bring the house down with his energy, smiles and not forgetting his fashion sense
Presentations during the mixer :
'Fashion and Technology' - How does Africa Make it count by Leah Misika
Fashion and Feminism" - can fashion be feminist by Gloria Wavamuno, Uganda
Viable Fashion Business Models: Best Practices by Elorm Yankah, Ghana
Speakers
Elorm Yankah is a fashion business consultant who combined her background in business with her love for the fashion industry. This led her to start Style Summit Africa, a platform to promote fashion by Africans while helping members of the industry to learn and grow. Elorm has worked as a marketing executive in the New York fashion industry, and also currently offers marketing and strategy consultation to fashion brands in Africa and the diaspora.
Gloria Wavamuno Under the artistic direction of a Ugandan, GW is the art director of her namesake-clothing label. The label/brand is constructed from cultures, sounds and the unexplainable.Founder of Kampala Fashion Week, and Chairman of Ugandan Fashion Council organization.
Leah Misikaas founder and managing director, Leah is a design creative whose love for fashion and background in retail management makes for a well-balanced integration of disciplines for La Mode Fashions' service objectives. In her current role as Director, she tasked with a variety of responsibilities, from lead creative to governance and business development initiatives internally.
Host Gilmore Moyo, a seasoned and fascinating fashionista based in Bulawayo, who always promises to bring the house down with his energy, smiles and not forgetting his fashion sense.
Gilmore Tee is an award-winning Fashion Facilitator, Entrepreneur, Brand Influencer TV & Radio Host, PR Consultant and Global Citizen from Bulawayo, Zimbabwe. He is Radio Host on South Africa's Cliff Central, Columnist for The Standard newspaper, Licensee for MTV Shuga, TV Host & Producer for Thatha Wena and a Mandela Washington Fellow. His work tag line is, "I have a strong voice and am ready to work."
Facebook | Twitter | Instagram | Snapchat: @GilmoreTee
Time: 5pm - 7pm
Date: 3 February 2018
Venue: MotoRepublik, 3 Allan Wilson Avenue, Belgravia, Harare
‍
‍
This #CreativeHustles in Harare is a partnership with British Council Zimbabwe & Motorepublik.
‍
About British Council
The British Council is the UK's international organisation for cultural relations and educational opportunities. We create friendly knowledge and understanding between the people of the UK and other countries.Using the UK's cultural resources we make a positive contribution to the countries we work with – changing lives by creating opportunities, building connections and engendering trust.Our art programme lives and breathes the aspirations to inspire to transform lives – to offer creative artists, participants and audiences across the world life-changing and life-enhancing experiences. Our catalyst is the UK's profound cultural and artistic strength and diversity.
‍
About MotoRepublik
Moto Republik is the first creative hub in Zimbabwe. It was born from an idea: that young people in Zimbabwe need a space where we can meet, collaborate and dream big. http://motorepublik.co/
-----------------------------------------------------------------------------------------------------
For more information on the hustle contact:
Dillion S. Phiri
+2778 020 9936
https://www.instagram.com/creativenestlings/
https://twitter.com/creativenestlin